Bio
Xanh T. Hoang
As a young girl growing up in the village of Dong Ha, Xanh (pronounced "Sun") experienced the best and worst of the Vietnam / U.S. experience.  Because of Dong Ha's strategic location (next to the DMZ and inland waterways) it experienced a significant U.S. military presence.  For this same reason the Viet Cong forces had a similar interest in Dong Ha.
As a teenager Xanh (nicknamed Lynn & Lilly) worked on U.S. Army, Navy, and Marine bases washing soldier's laundry and cleaning their living quarters (hooch).  Growing up in a well respected family and having made many good friends among American solders Lilly is grateful to this day for the respect and protection of her innocence she received.  As beautiful innocent teenagers Lilly and her sister "Freddie" were the objects of affection of many a young GI.  Raised in a society that would kill or banish a girl who had inappropriate contact with any boy (U.S. or Vietnamese) Lilly's childhood was one of adventure, excitement, and constant fear.  With rocket craters in her yard, Lilly would sweep burning debris from the roof during rocket attacks and flares to prevent the house from burning down.  As a youth soldier Lilly would have to guard the village at night against intruders.  The details are far more disturbing.  In the words of Charles Dickens "It was the best of times, it was the worst of times".  Despite the horrors of war, Xanh has far more fond memories than otherwise.

During the time that the U.S. was winding down its involvement in the war, the North Vietnamese army was  pushing south.  Because of its proximity to the DMZ Dong Ha was evacuated.  It was at this time Xanh and her family move to a refuge camp outside the city of DaNang, leaving all of the family's possessions behind.
In 1972 Xanh  moved to the U.S. and married an American GI whom she met in Vietnam.  Eight years later, with two children to care for, Xanh's marriage ended in divorce.  Unable to return to her family, once again Xanh had to fight to survive.  With the honesty and innocence that comes from living in a small village, with the wisdom of her father's teachings, and with a strong intellect, Xanh took control of her life and that of her children.  Working several jobs, and going to school Xanh earned  her citizenship, a high school equivalency, and went on to cosmetology school.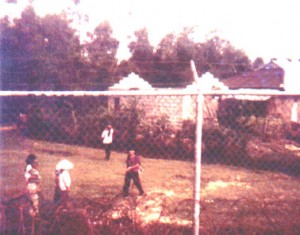 Thirty two years after leaving her homeland and family, Xanh has experienced much, achieved a comfortable life, put her two children through college (and graduate school), and is now working to help the less fortunate women of her village.  While more than thirty years have gone by, and many new people have moved into Dong Ha, very little has changed.  There is prosperity for the new residence.  However, of the original people of Dong Ha some are slowly recovering while most are worse off.
Working multiple jobs and being a single mother with two children, made it impossible for Xanh to return to Vietnam.  That was until 1995 when she returned to see her sick father.  Her second return home was in 2004 when she took her two children to meet their grandmother for the first time.
While in school Xanh worked as a volunteer with Mercy Hospital, as well as providing transportation for the elderly.  Currently Xanh volunteers with a local community center.  Xanh believes to show appreciation for what one has it is important to give back to the less fortunate.  Xanh wants to share what she has learned in the U.S. to help other women in her village.